Hyderabad's Indira Park Faces Outrage For Not Allowing Unmarried Couples Inside The Park
There is no denying the fact that public places such as parks, recreational spots, etc. should be taken care of in a proper manner and those who make them dirty or destroy the property should either be punished or restricted from entering.
In the modern times, parks have a special importance in our lives as the greenery is getting replaced by the concrete jungles and parks are among the only few places where one can spend some time in natural surroundings. However, sometimes the leisure time of public is destroyed by the acts of the moral police as they don't like unmarried couples spending time together in parks and there are some who even don't like to see kids or youngsters playing games inside parks.
Recently, comedian-writer Varun Grover took to the micro-blogging site Twitter to share a photo which shows a notice being hanged in front of a park in which it is clearly written that unmarried couples are not allowed in the park. We are talking about Indira Park which is in Hyderabad and quick surprisingly, the park management has also prohibited people from taking any sports item such as football, shuttle, volleyball, etc. inside the park.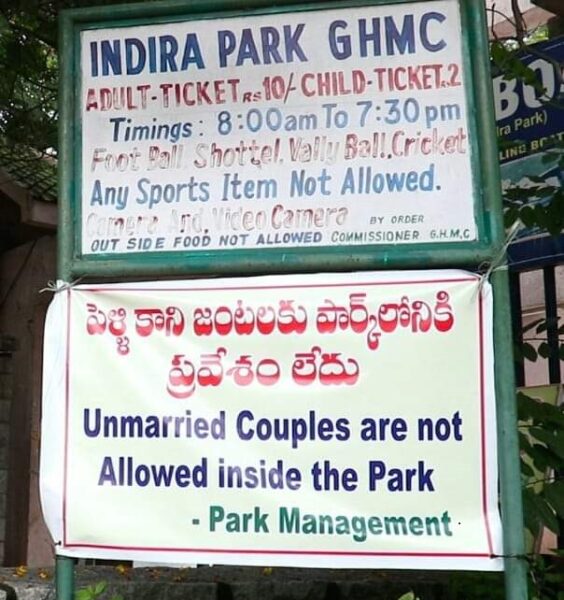 Why not make YET ANOTHER app to verify married couples wanting to visit the park. Can call it O-WIN.

(*Orthodoxy-Win) pic.twitter.com/7kbi1oeELE

— वरुण (@varungrover) August 26, 2021
Soon people started reacting on this matter and while many slammed the park authorities, some made fun of the order by asking whether they should carry marriage certificates along with them or the singles should get married for visiting the park, and the funniest being whether couple needs to be married to each other.
Here are some selected reactions:
#1
Marriage certificate bhi Lana hai ?

— backstroke (@aapsur) August 26, 2021
#2
Park mein ghoomne ke liye shaadi kar le? What kind of incentive program is this? https://t.co/CCdHsdnT2O

— Madhur Nigam (@madhur8594) August 26, 2021
#3
Ab kya park janake liye marriage certificate ya Kaazi ko leke ghoomna padega?

— ఇష్రాత్ جَوَاهَر खान (@iGrouchoMarxist) August 26, 2021
#4
How will they know if someone is married or not?

— S (@SugunaDew) August 26, 2021
#5
To ab marriage certificate leke ghumna padega kya sirf park me jane ke liye? Lol. Just a small question- Ye aaj kal ke 16-17 saal ke couples jo ek dusre ko 'Hubby' 'Wifey' bulate firte hai before marriage wo allowed hai kya? https://t.co/2n5HySujHB

— Namita Tambe (@numb_eeta) August 26, 2021
#6
You can come to the park and give a hate speech if you wish..but unmarried couples sitting in the park is a BIG No.

Anyone found guilty will be dealt with vigilante groups and not by law.

— Shantanu Katre (@Shantanu_katre) August 26, 2021
#7
Is it a public park or a semi-private bed room for those who lack privacy at congested homes.

— sound of music (@RafiAhm89808445) August 26, 2021
#8
Also, this is clearly an anti-working class move. Most couples who frequent Indira Park belong to lower, middle income categories. They cannot access hi-fi pubs & other costly spaces. Working class young couples have every right to access these parks. End Ridiculous Restrictions.

— Meera Sanghamitra (@meeracomposes) August 26, 2021
#9
So married couple can enter and do their thing? Kind of like an open love hotel, only for the legals.

— Nimesh (@cherryforbidden) August 26, 2021
#10
They are assuming married couples won't be physically intimate…

They should add, newly married are unwelcome too.

— ֍Private֍Intellectual֍ (@cotormycle) August 26, 2021
#11
Anybody want to get marriage certificate printed on their T shirt ?

— kissan (@Siraj80559586) August 26, 2021
#12
What if married to other persons and not to each other

— DDP (@DebarpitaP) August 26, 2021
#13
Sanskari Park!

— Unleashed (@EndangErd333) August 26, 2021
#14
Alag alag jaao, under mil jaao pic.twitter.com/i1z3fiGEVw

— Babu IPL (@Babu_Loolu) August 26, 2021
#15
Unmarrid couple vistis park just to spend sometime together, every one does not have the luxry to spend thousands in restaurants just to spend time. So those who cant spend that much decide to meet in the park

— sayeed ahmed (@NezamiAhmed) August 26, 2021
After facing the backlash and criticism, the authorities removed the banners and asked local cops to keep a check on it by paying visits on a regular basis.
Banners removed by DD UBD. Inconvenience regretted. Informed local police to keep vigil by regular visits to maintain serene atmosphere in the park . pic.twitter.com/vqNBAdX97F

— Zonal Commissioner, Secunderabad Zone, GHMC (@ZC_Secunderabad) August 26, 2021
Do you also have a park in your city where such restrictions are imposed? Let us know about it.
The post Hyderabad's Indira Park Faces Outrage For Not Allowing Unmarried Couples Inside The Park appeared first on Notesradar.