MI vs KKR: Twitter Slams 3rd Umpire & Ultraedge Technology After Controversial Rohit Sharma Dismissal vs KKR
Mumbai Indians (MI) captain Rohit Sharma's controversial dismissal in the 56th match of the IPL 2022 against Kolkata Knight Rider (KKR) on May 9, 2022, sparked debate amongst the cricket fans about the ultra-edge technology and some slammed the third umpire as well.
MI, who have been eliminated from the race to the playoffs, won the toss and Rohit Sharma chose to bowl first. Though Venkatesh Iyer started well with 43 in 24 balls, and Nitish Rana made 43 in 26 balls, MI bowlers made a good comeback as Jasprit Bumrah recorded his best-ever Indian Premier League (IPL) and T20 cricket figures of 5/10.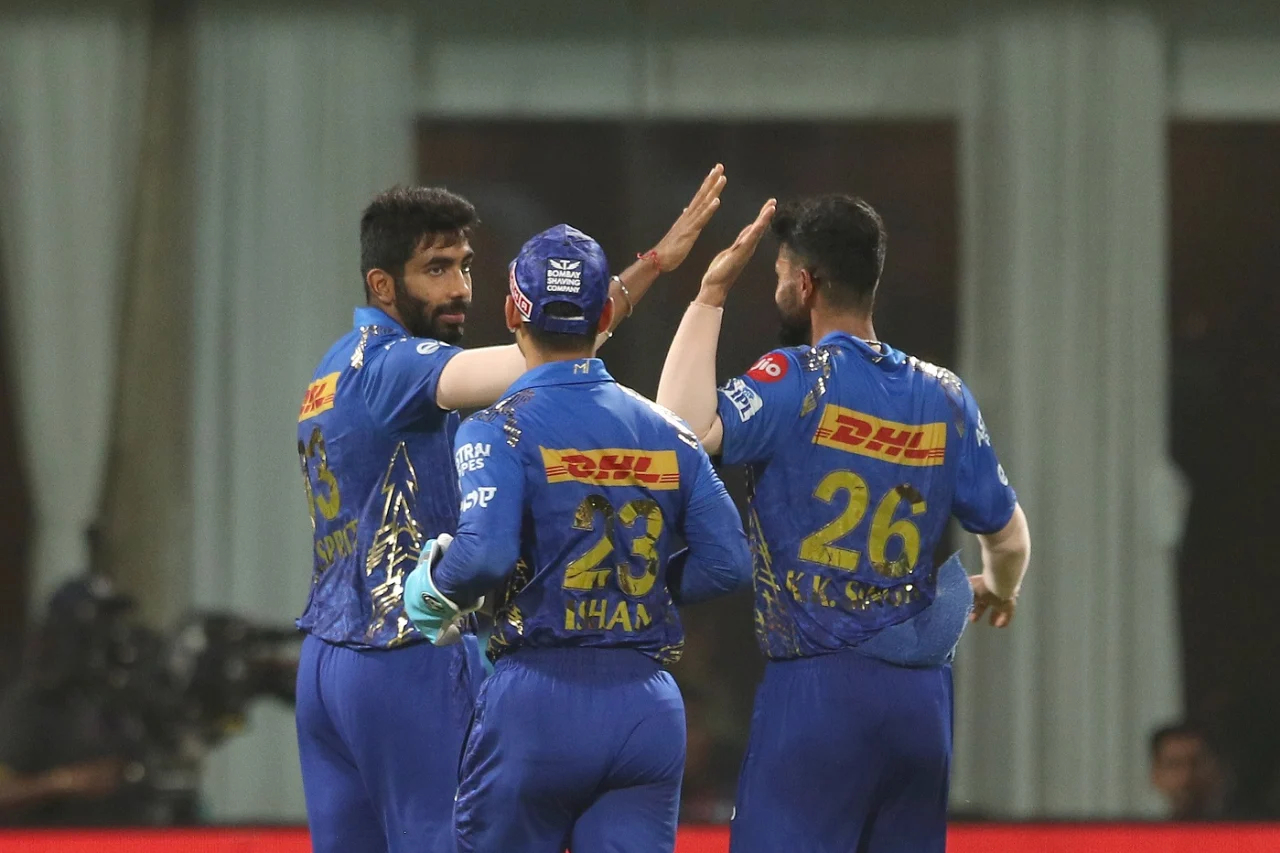 In the end, KKR managed to make just 165/9 in 20 overs. Kumar Karthikeya picked two wickets as well, while Rinku Singh and Ajinkya Rahane made scores in the 20s.
Rohit Sharma's Innings Brought To A Close By Dodgy Umpiring As Fans Slam Third Umpire And Ultraedge Tech  
Chasing a 166-run target against KKR, Rohit opened the innings alongside Ishan Kishan in search of their third win of the season. Tim Southee bowled the first over for KKR and on the last delivery, he managed to outsmart Rohit as the ball went past close from the edge of his bat.
The ball was pouched brilliantly by KKR keeper Sheldon Jackson which had brushed Rohit's thigh pad on the way. The on-field umpire gave it not out but Jackson convinced Shreyas Iyer to take the review. In the TV replay, the ultraedge witnessed spikes on the snickometer when the ball was close to Rohit's bat. On the other hand, some spikes were also seen before the ball came close to the MI skipper.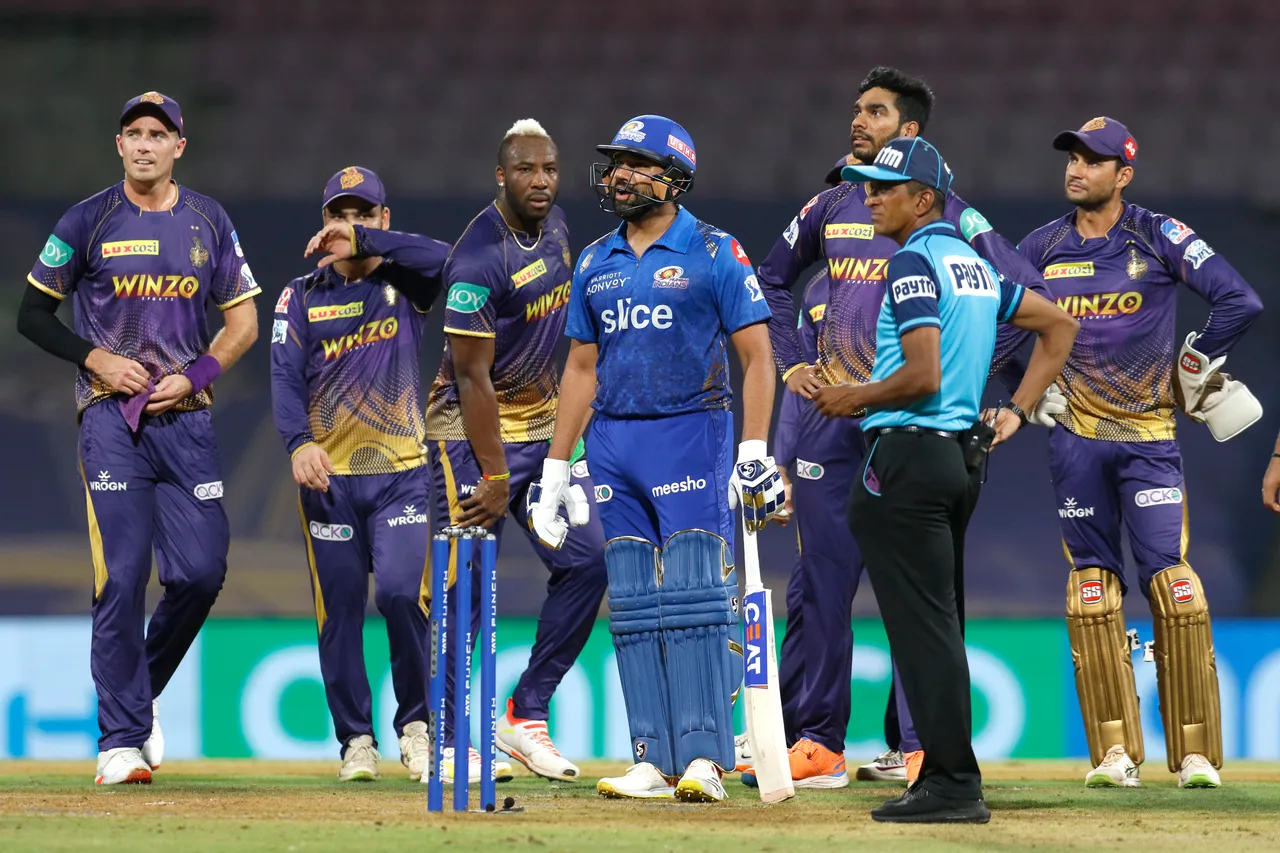 However, the third umpire was convinced as per the technology that the ball had brushed Rohit's bat on its way to Jackson, who took a good catch and told the on-field umpire to change his decision as it was given out. Rohit was in disbelief after the third umpire's decision as he shook his head before taking a long walk back towards the pavilion for 2 runs.
Fans were not happy with the dismissal and took to Twitter to explain their side of things and slammed the third umpire and the ultraedge technology.
Here are some of the reactions:
How can the third umpire not see what we saw? Rohit was NOT OUT #MIvsKKR pic.twitter.com/UbbUH2BVcc

— Vikrant Gupta (@vikrantgupta73) May 9, 2022
I think umpire needs a 3D glass!!! pic.twitter.com/Sn4RxQ3JlK

— Rohit Sharma Trends™ (@TrendsRohit) May 9, 2022
Clearly a technical glitch. Spike popped up before the ball reached Rohit's bat. Important for the third umpire to keep the eyes open. #IPL2022 #MIvKKR pic.twitter.com/hfsfMvPb1m

— Subhayan Chakraborty (@CricSubhayan) May 9, 2022
How can he miss this two… How careless the third umpire in giving his decision 🤬… Didn't even check whether the catch is legal or not… pic.twitter.com/xvawhxLQoR

— LUCIFER45 (@ManoharVemali) May 9, 2022
Dear @BCCI @IPL Please get some good pairs of umpire who can hear and see properly! This type of bad umpiring it's just wasting the hardwork and dedication of all the players this stuff will happen someday in IPL final or the last ball of a deciding match. #IPL2022 #RohitSharma pic.twitter.com/jrU12xW3Ni

— Pu11 (@BTechnicalbiswa) May 9, 2022
Unfair decisions by on field umpiring are somewhat acceptable than getting these kind of unacceptable technical error. #RohitSharma #IPL2022 #MIvsKKR #KKRvsMI #MumbaiIndians pic.twitter.com/Vm2DCL3Qz7

— Sathish Pandiyan (@sathishpandi25) May 9, 2022
When the worlds most cash rich cricket league can't afford a hotspot technology.

Forget about on field umpires third empires are being the worst this season.

Why only #RohitSharma always😪 pic.twitter.com/7LiS7ZRXIV

— Rohit Chilakala (@RohitChilakala) May 9, 2022
Poor umpiring again #rohitsharma #Rohit #IPL2022 #MIvsKKR pic.twitter.com/xBuJX4VfIm

— Chetan_Chegu 🏹 (@ChetanGundre) May 9, 2022
https://twitter.com/ImDsL45/status/1523700261641809920?ref_src=twsrc%5Etfw%7Ctwcamp%5Etweetembed%7Ctwterm%5E1523700261641809920%7Ctwgr%5E%7Ctwcon%5Es1_c10&ref_url=https%3A%2F%2Fwww.news18.com%2Fcricketnext%2Fnews%2Fipl-2022-fans-slam-third-umpire-and-ultraedge-technology-after-controversial-rohit-sharma-dismissal-against-kkr-5142541.html
Can someone donate specs to umpires #umpiring #Hitman #Rohitsharma #IPL2022 @ICC @BCCI @mipaltan pic.twitter.com/1ppEy7AWAo

— Call_me_HitMan (@Call_me_HitMan_) May 9, 2022
Also Read: Ryan Campbell Has Been Discharged From Hospital